Username: Simply Wealth Group (Agent)
Price:725700
Property Type:house
Last Updated:2023-11-09
Property id:5 Views:123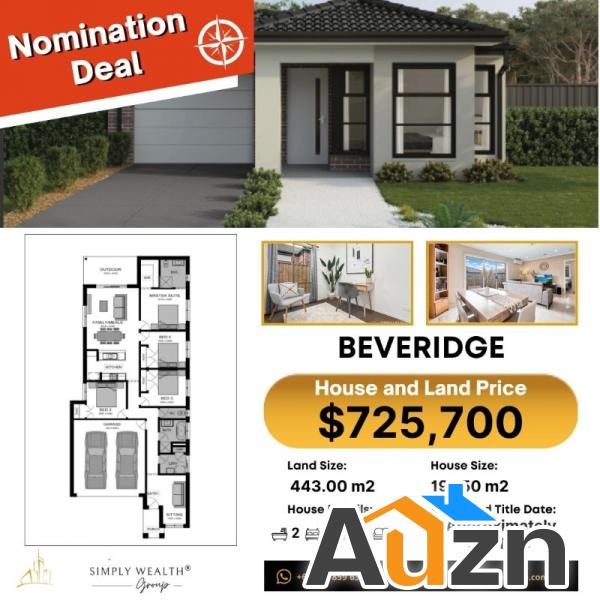 Important Reminder:
1. Auzn simply provides an online platform for members to post their ads, without any endorsement of the ads themselves! Always think about your financial capacity and risk tolerance before jumping into any property transactions. Make sure to do your homework and carefully evaluate each deal.
2. Never casually share copies of your ID or SMS verification codes with others.
Looking for the perfect property to call your own in the picturesque town of Beveridge? Look no further! We present to you an incredible nomination deal opportunity that puts you on the path to owning a stunning piece of real estate in this charming and sought-after community.
Don't miss out on this outstanding nomination deal in Beveridge! Whether you're a first-time buyer, a growing family, or someone seeking a serene retreat, this property caters to all your needs. Act now to secure your spot in this sought-after community.
Get to own this Property Package in beveridge for only $725,700!
Land Size: 443 sqm
。House Size: 191.50 sqm
。Facing: Nomination Deal
。4 Bedrooms
。2 Bathrooms
。2 Cars for Garage
。Land Settlement: September 23
Why Choose beveridge
。Safe and Family-Orientated Community
。Reasonable and Affordable HSousing Prices
。Surrounded by a Broad Range of Educational Institutions
。Walking Distance to Shopping Centres and Train Stations
。Numbers of Major Attractions to Visit
。Easy and Full Accessible to All Amenities
Local Reviews to beveridge:
Beveridge is a charming town with a unique blend of history and modernity. Nestled in a scenic countryside setting, this town offers a peaceful escape from the hustle and bustle of city life. The old-fashioned architecture and serene landscapes give Beveridge a nostalgic feel that transports you back in time. -beveridge
For more detail, just call us:
1300 074 675 or send us a message on Whatsapp +61 488 859 637
For more updates, follow us on social media:
Facebook: Simply Wealth
Instagram: @simplywealthgroup
Website: simplywealthgroup.com.au
Twitter: @SimplyWealthGrp
#simplywealthgroup #simplywealth #newhome #houseandland #lifestyle #construction #sale #newhomeconstruction #build #design #Melbourne #residential #property #realestate #homedesign #newhome #Melbourneproperty #allinclusive #displayhomes #newhomeideas #homeandland #familyhomedesign #affordableluxury #newbuildhome